In the amount of time it will take you to read this sentence, over 19.6 million emails and 300,000 texts will be sent, worldwide.
3 notes will also be written, by hand.
I hate writing notes - not because I hate the act of writing but because my end result looks like I wrote it while falling down a flight of stairs.

Emails and texts are a necessity. They make communicating easier and faster and more convenient. But handwritten notes (the positive ones) feel like a gift, precisely because they're harder and slower and less convenient to write, and deliver. When we get an email, we read it. When we receive a message written by another's hand, we feel it. A text is a trip through a McDonald's drive-thru. A handwritten note is dinner at 801 Steak and Chop House.
Below are some examples of hand written notes I have received over the years from very thoughtful people who took the time to put pen to paper. You'll also see some standard type-set correspondence that could have used a quick handwritten comment, and some ideas on what could have been written.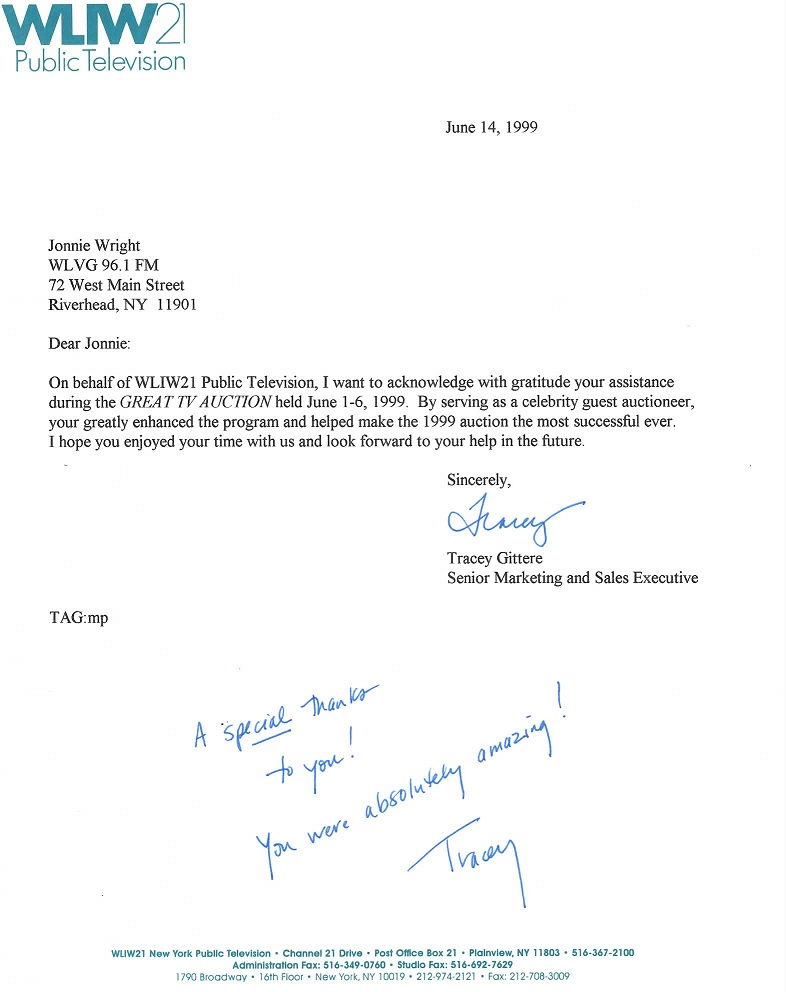 I received this letter, along with the very thoughtful note from Tracey, after co-hosting a fundraising event for a local Public TV Station on Long Island, in 1999. She didn't have to write anything, which is exactly what made her note so special. I look at the VHS tape of that event now - me lumbering around the set with my 300 pound frame, clowning like a very poor man's Jerry Lewis - and I wonder why this wasn't a complaint letter from WLIW's attorney.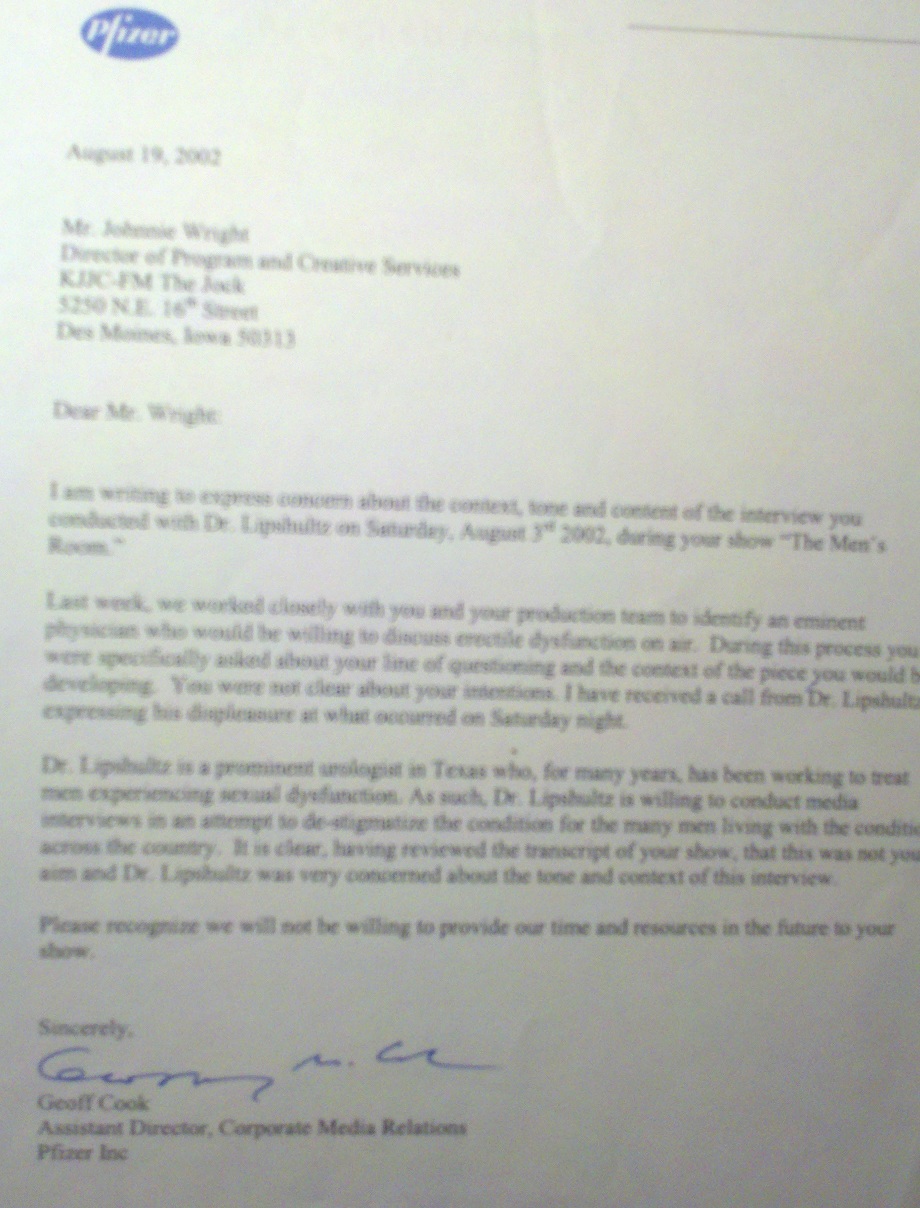 THERE'S a complaint letter!
Forgive the blurry image. I got this letter after I'd interviewed Dr. Lipshultz during a radio show I used to host in Des Moines. The Texas doctor was an expert on a very popular blue pill made by Pfizer. I was a 37-year-old washed-up DJ going through a midlife crisis, broadcasting live on an FM radio station at 10pm on a Saturday night, trying to engage Dr. Lipshultz coherently, while a tattoo of a grand piano in flames was drilled into my forearm, at The Skin Kitchen. Nobody confused the interview with Ted Koppel and Mikhail Gorbachev. The terse letter could have benefited from a quick note: Hope you enjoy the free enclosed sample!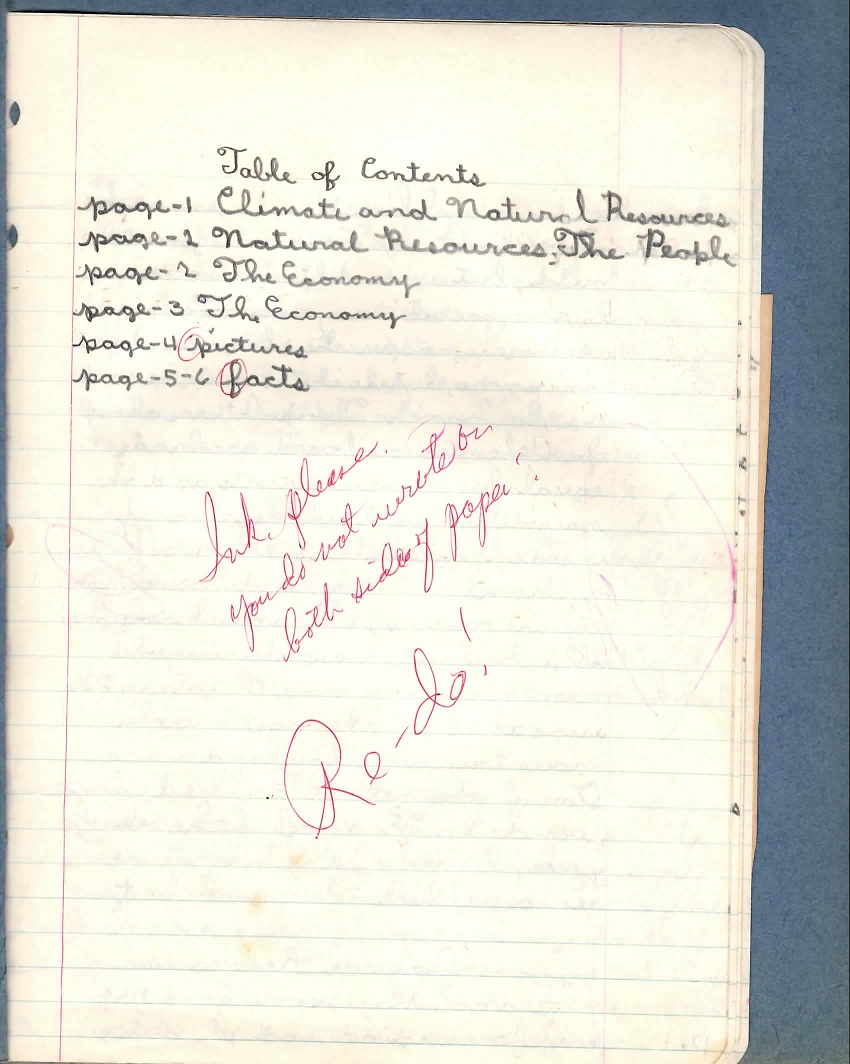 25 years before the "interview," in 1977, my 5th grade teacher, Marjorie Griffith, recognized that the chubby, curly-haired underachiever who sat in the back row of her Cambridge Elementary classroom, was nothing but trouble. Her handwritten note on the first page of my Report on France was a foreshadowing of a lifetime of re-do's.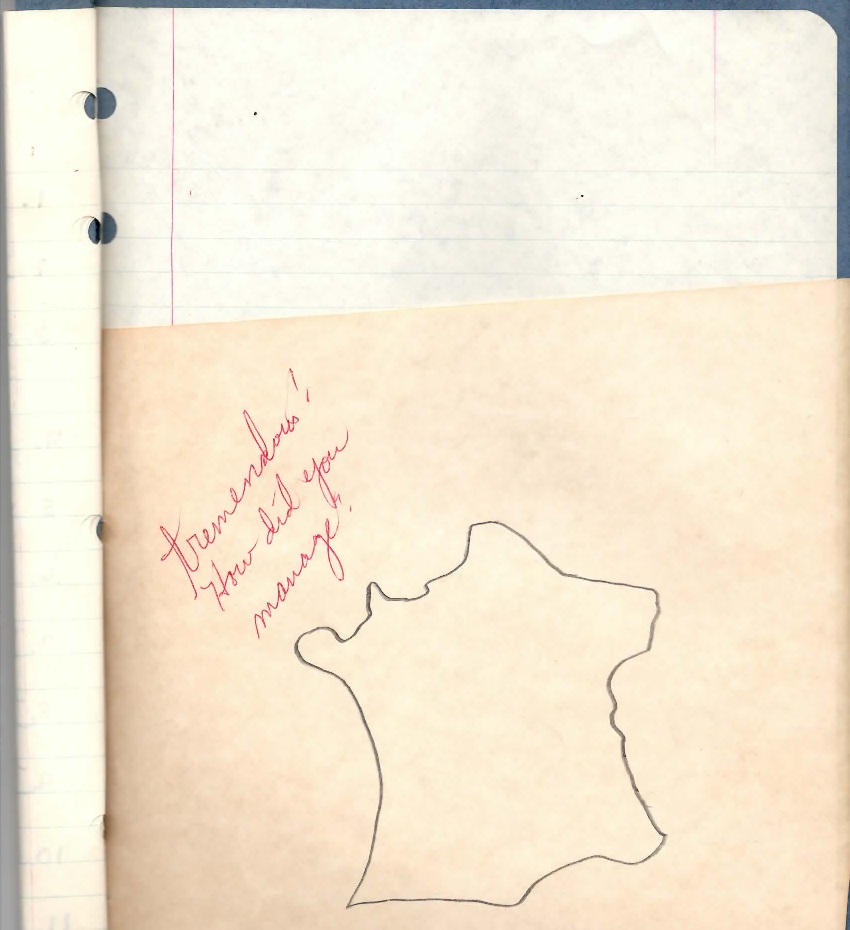 The news didn't get better, the further you went into the thin Report. Note the horribly sarcastic tone of her note. How do you think that would fly today, parents?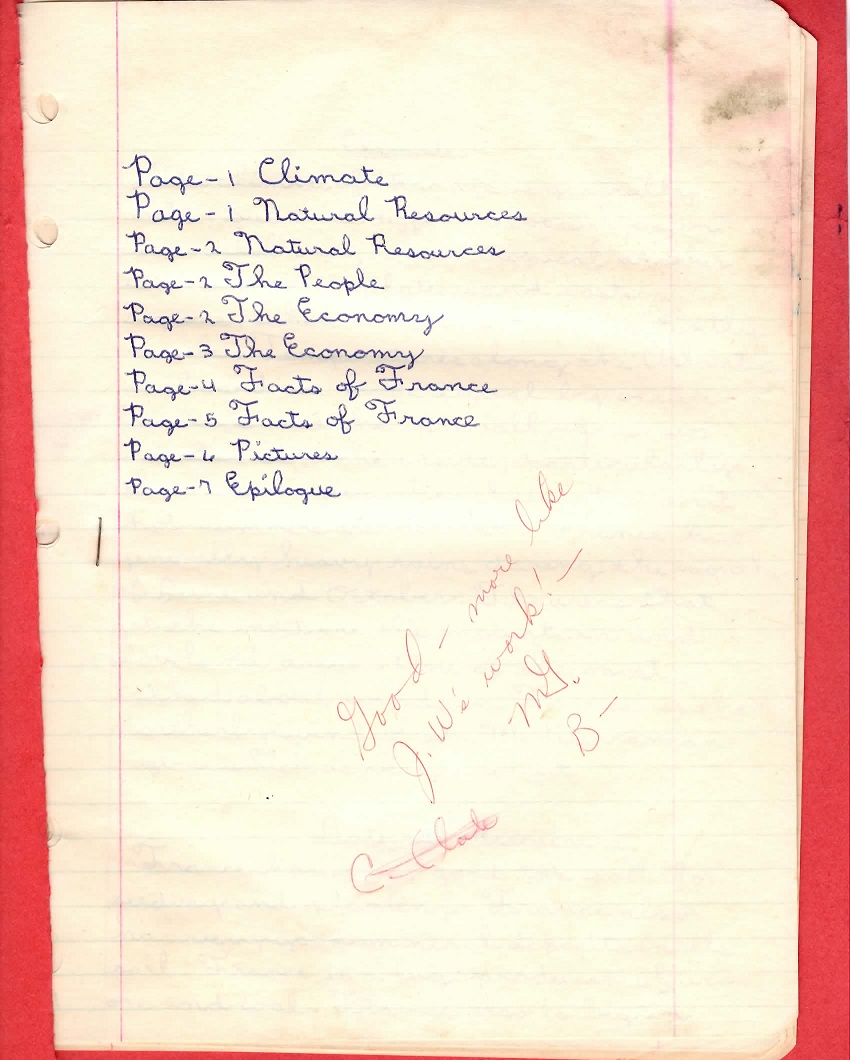 Apparently the re-do, in ink and with a marginally more detailed map, did the trick. Vive le France.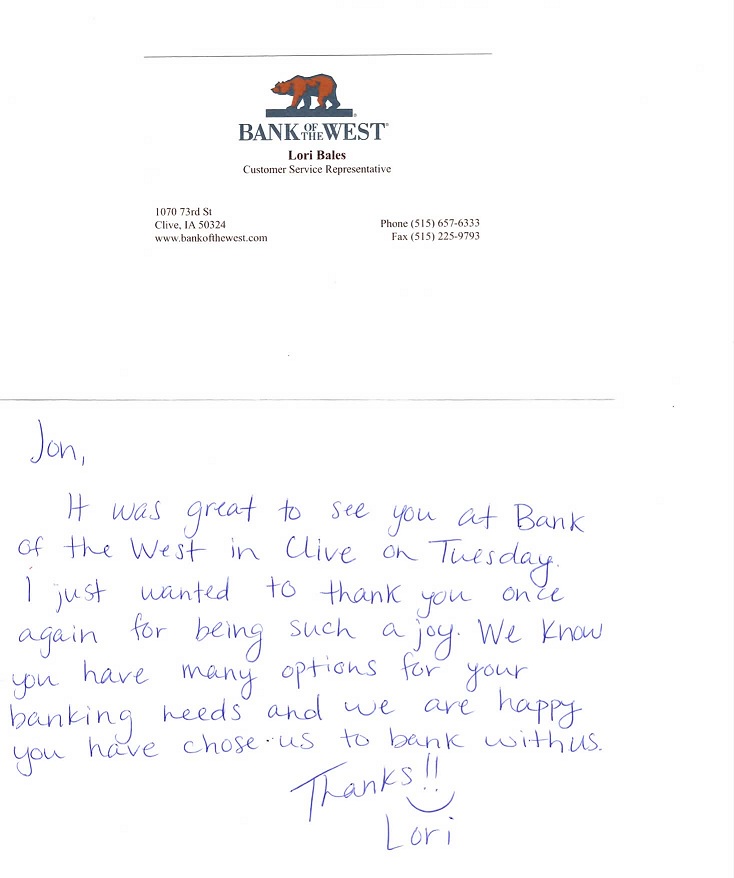 Lori mailed this wonderful and unexpected thank you card to me about a month ago. It also dovetailed with a similar comment Lori made to me at the drive-thru. Yes, it's business. Yes, it's her job. But when someone is thoughtful enough to make such a nice comment and follow it up with a personal note, they are transcending the employee-customer relationship. I'll never bank anywhere else. Thank you, Lori!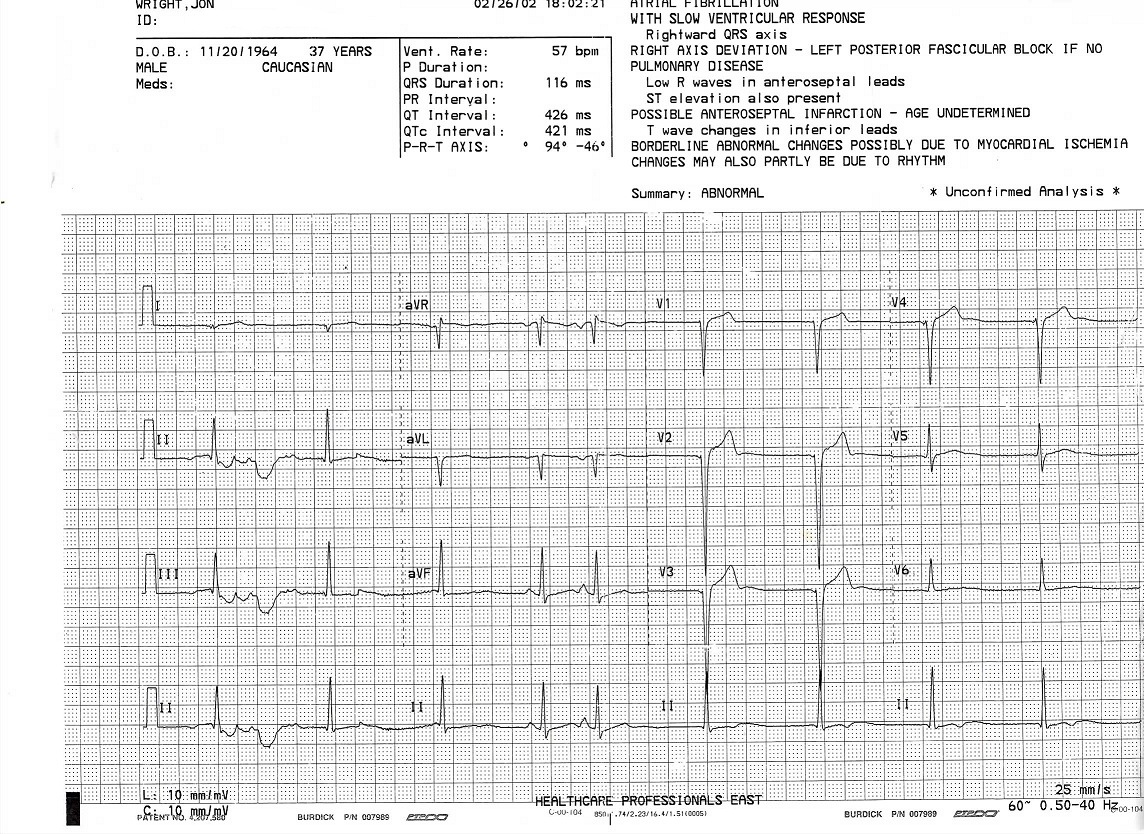 I had chest pains back in 2001, and only waited a year before I ended up in an emergency room, where the above EKG suggested I was suffering from Anteroseptal Infarction, which is a scary way to say that part of my heart is dead, which is actually scarier, so I'm glad they went with the other thing. They should have followed Lori's lead (previous note), and added a nicely handwritten note: It was great to see you in the ER on Saturday. We just want to say thank you again for not dying on the exam table. We know you have many options for your heart attack needs, and we are happy you have chosen to be diagnosed by us. Thanks! :)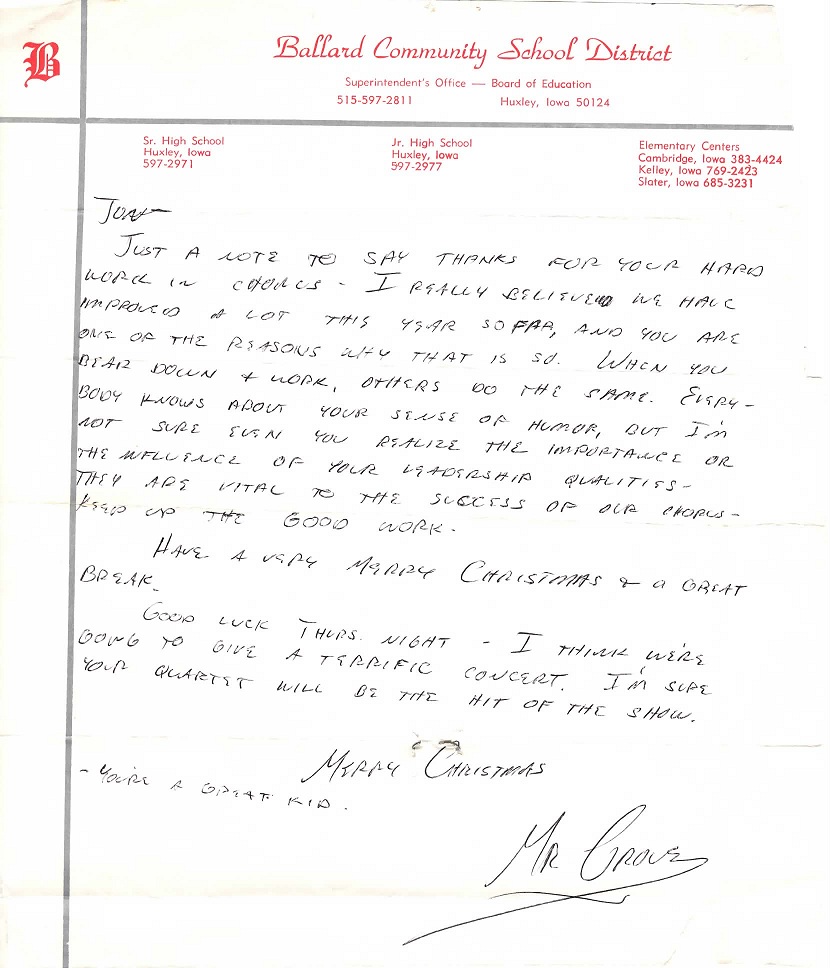 Nearly 20 years before the EKG, Greg Grove, a very dear man and the Ballard High School Choir teacher at the time was wrapping his soothing hands around my 18 year-old heart. Of all his kind words in this very special letter, it's his final sentence that resonated the most. It was the first time that anyone had said those four words to me.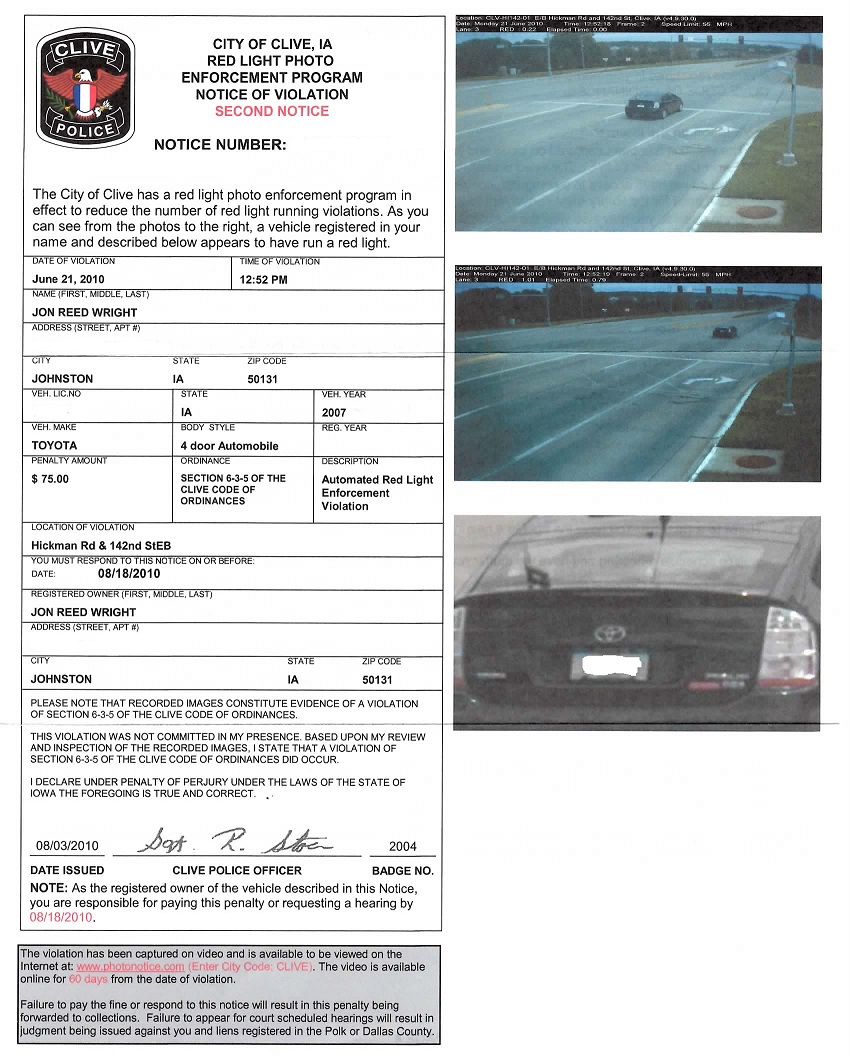 Okay, guilty as charged. But hey, how about a little positive feedback in a handwritten note on the side? Something like: You're a great driver, kid.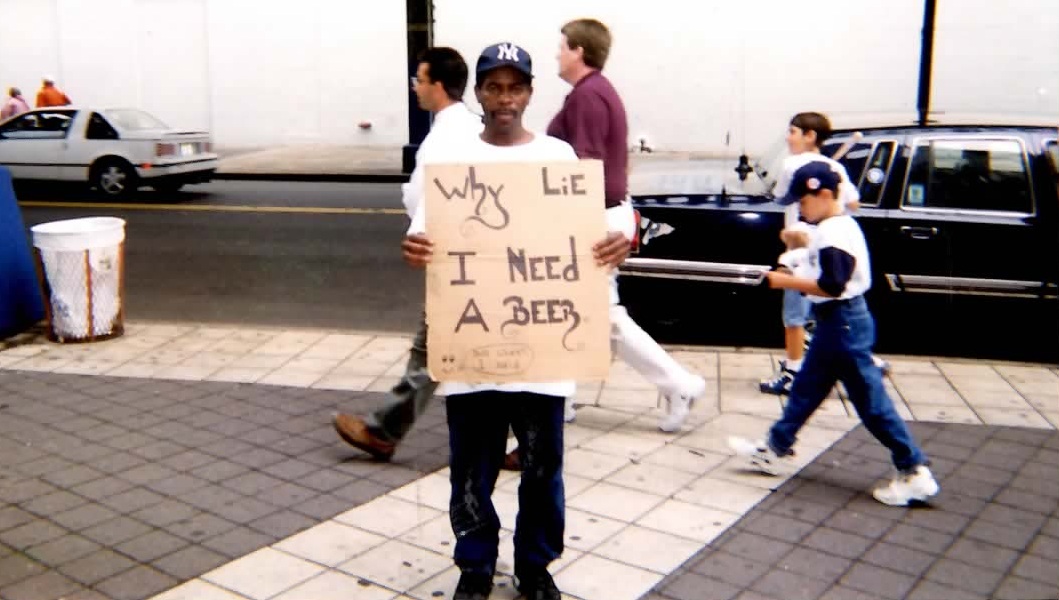 The positive reinforcement this man was seeking with his stylish handwritten sign, outside Yankee Stadium in 1997, was through the smiling faces of dead presidents. That was also the only year between '96 and 2000 that the dreaded Yankees didn't win the World Series. I'd like to think my $5 contribution to the sign holder played some small part.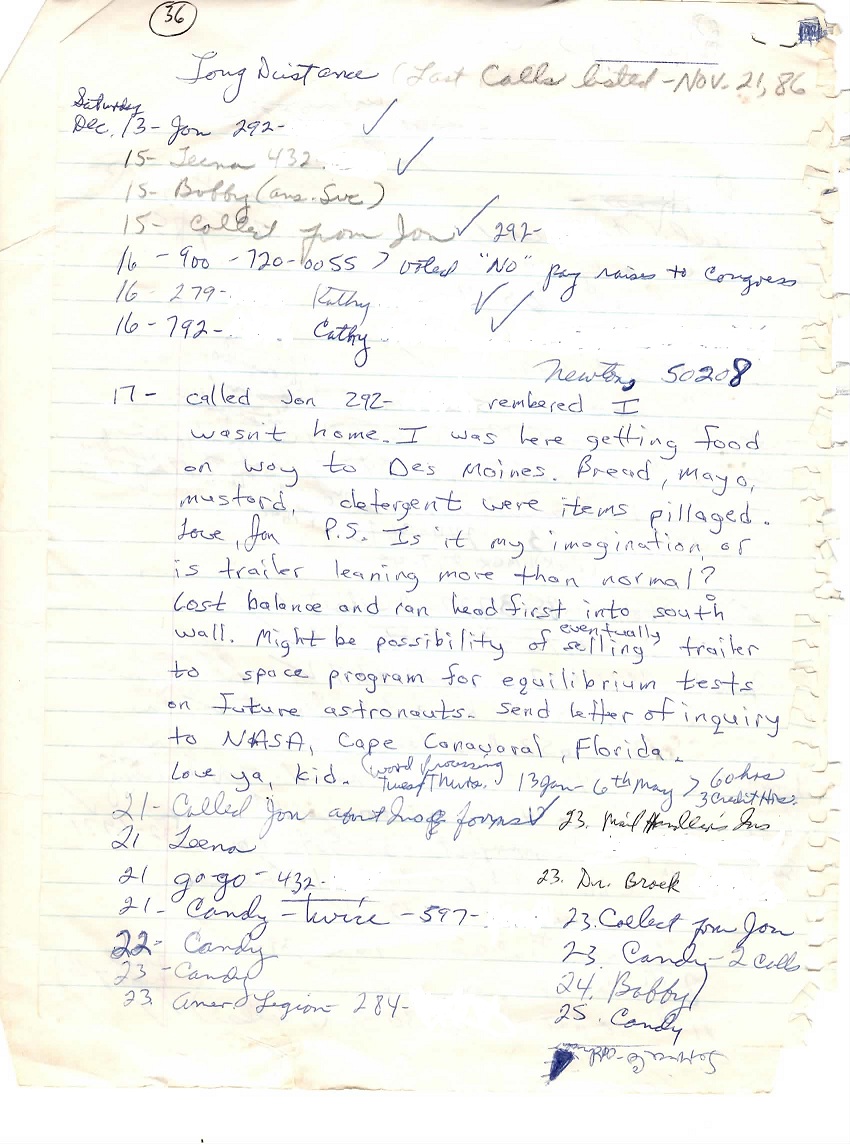 Money was also the likely purpose of this handwritten document (some numbers and last names have been erased) which, in 1987, was my mom's record of every phone call she made. I wasn't sure why she made the detailed list, since she lived alone in her trailer, in 1987. I grabbed a pen when she wasn't home and wrote a pretend entry for the 17th, in her name, followed by what I still think are some amusing observations. Mom wasn't.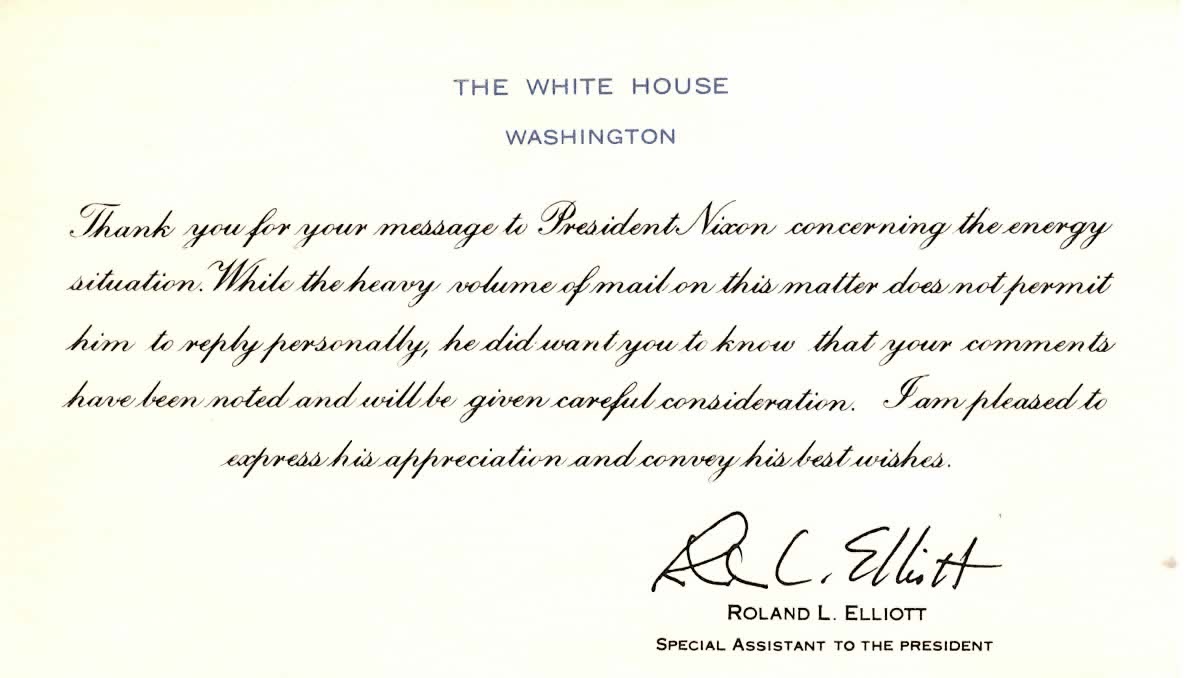 I wrote a letter to President Nixon in 1974, suggesting some solutions to the growing energy crisis - which probably included shorter 4th grade school days. I freaked out when I received a response card in the mail. Okay, it wasn't specifically from the Pres. But just knowing that he was giving my suggestions "careful consideration" was enough for me, although a quick Great idea, dude! Let me record that so I remember it! - R. Nixon would have been nice. The envelope the card came in is postmarked February 15th, 1974. Ironically enough, on that same day, seven states plus Washington D.C. adopted an "odd-even" gas rationing system: people whose license plate number ended with an odd number could only purchase gas on odd-numbered dates.
I think shorter school days would have been easier.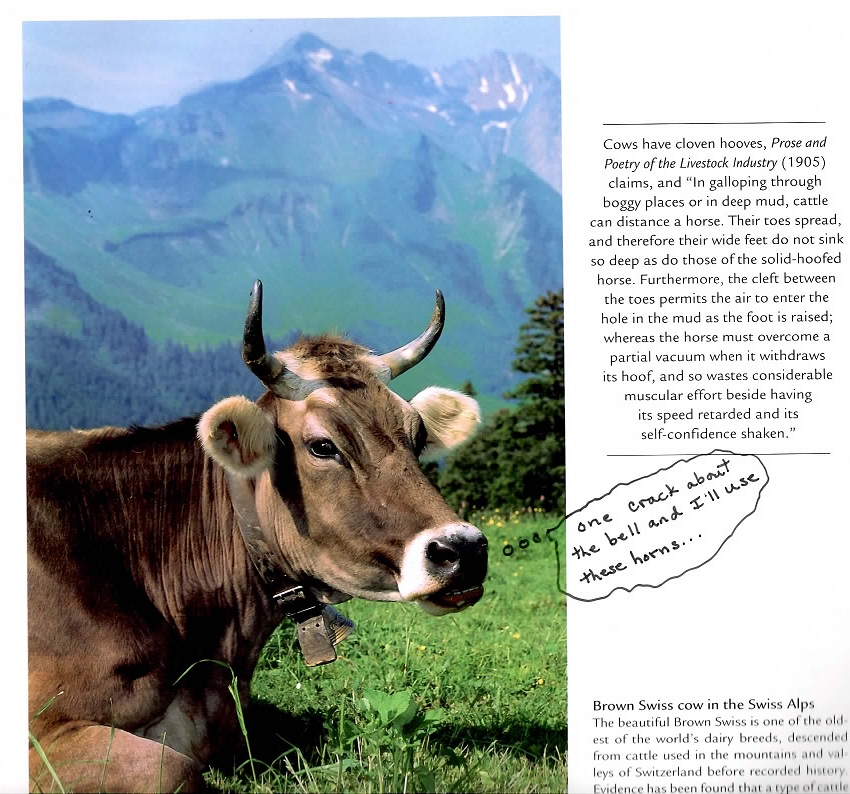 I have a beautifully illustrated hard-cover book called The Complete Cow. I don't know why. Many of the 100's of photos of photogenic cows are accompanied by funny captions written by friends, most of which I can't show you. Here's one that's family blog-reading friendly.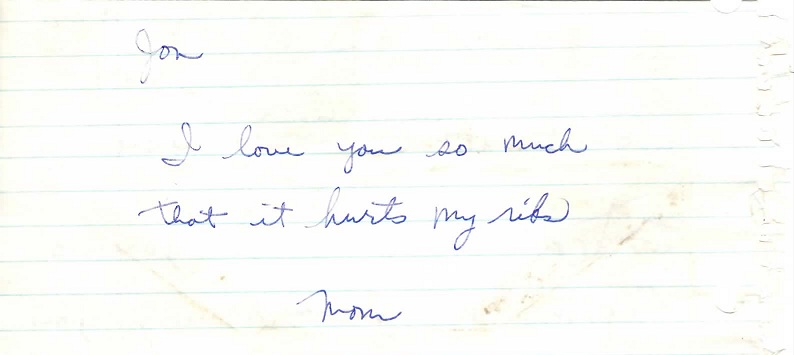 This is the handwritten note I cherish most. My mom wrote it in the late 80's, after we'd laughed uncontrollably at something silly. We had fewer of these moments together as I became more angry and distant, and her mental illness became more pronounced. Those we did share, stand out in my mind like blue ink on white paper.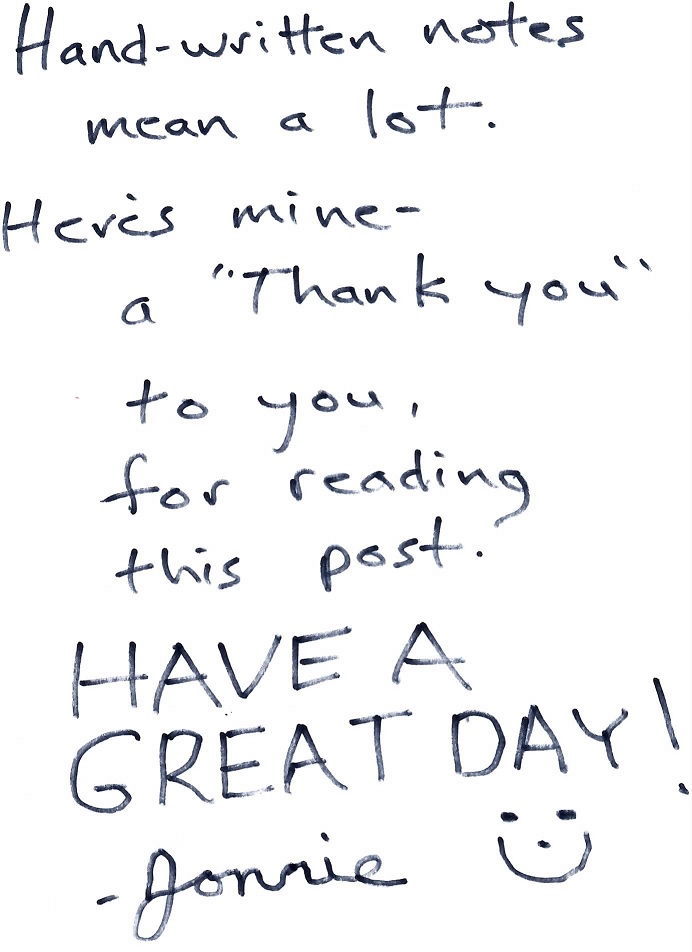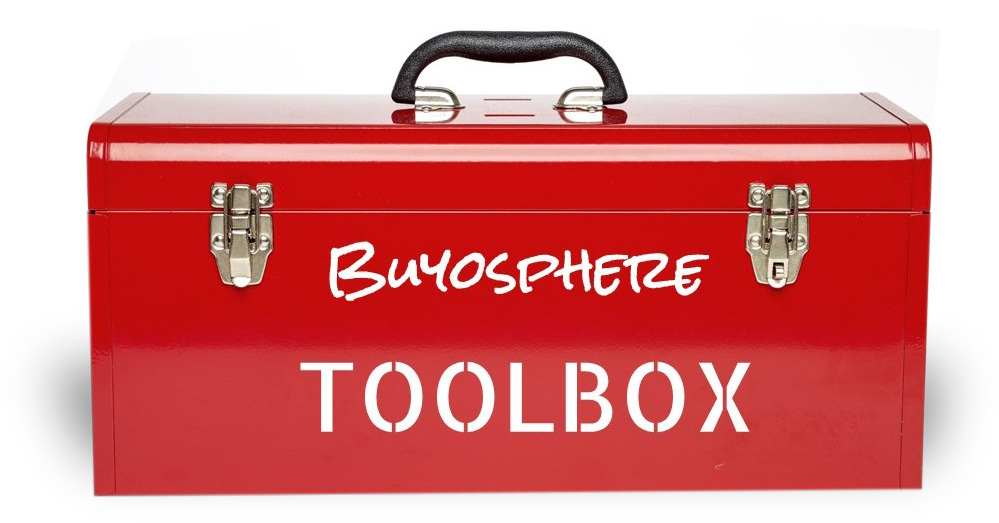 Open The Buyosphere Toolbox to get FREE exclusive access to proven tools that will help you generate higher shop sales and profits - delivered weekly, right to your inbox!