I started secret shopping businesses on my own for a "living" (I did it as a hobby until someone offered to pay me) starting back in 2010. I posted my evaluations on The Unsecret Shopper blog which generated interest and business, which helped build the foundation for The Buyosphere Corporation, and Buyosphere University, which helped the company grow into its current roster of 11 full time team members and helped me be able to afford the cool Cowboys cap I'm wearing in the above pic. (I lied. It was a gift from my girlfriend.)
I still secret shop for our Buyosphere auto repair shop clients (all of our coaches do) but haven't done it for "fun" for many years, until I very recently brought what my girlfriend Lorri and I affectionately refer to as our "Clown Car" into All Pro Service Center on Railroad Avenue in West Des Moines for an oil change and a non-working heater.
Full discloser, we have worked - and continue to work - with two auto repair shops in the Des Moines area: Stivers Ford Lincoln (sales and service) and Westside Auto Pros. They are both great businesses run by wonderful men who have built a team of dedicated employees who really "get" it when it comes to the importance of providing exceptional service.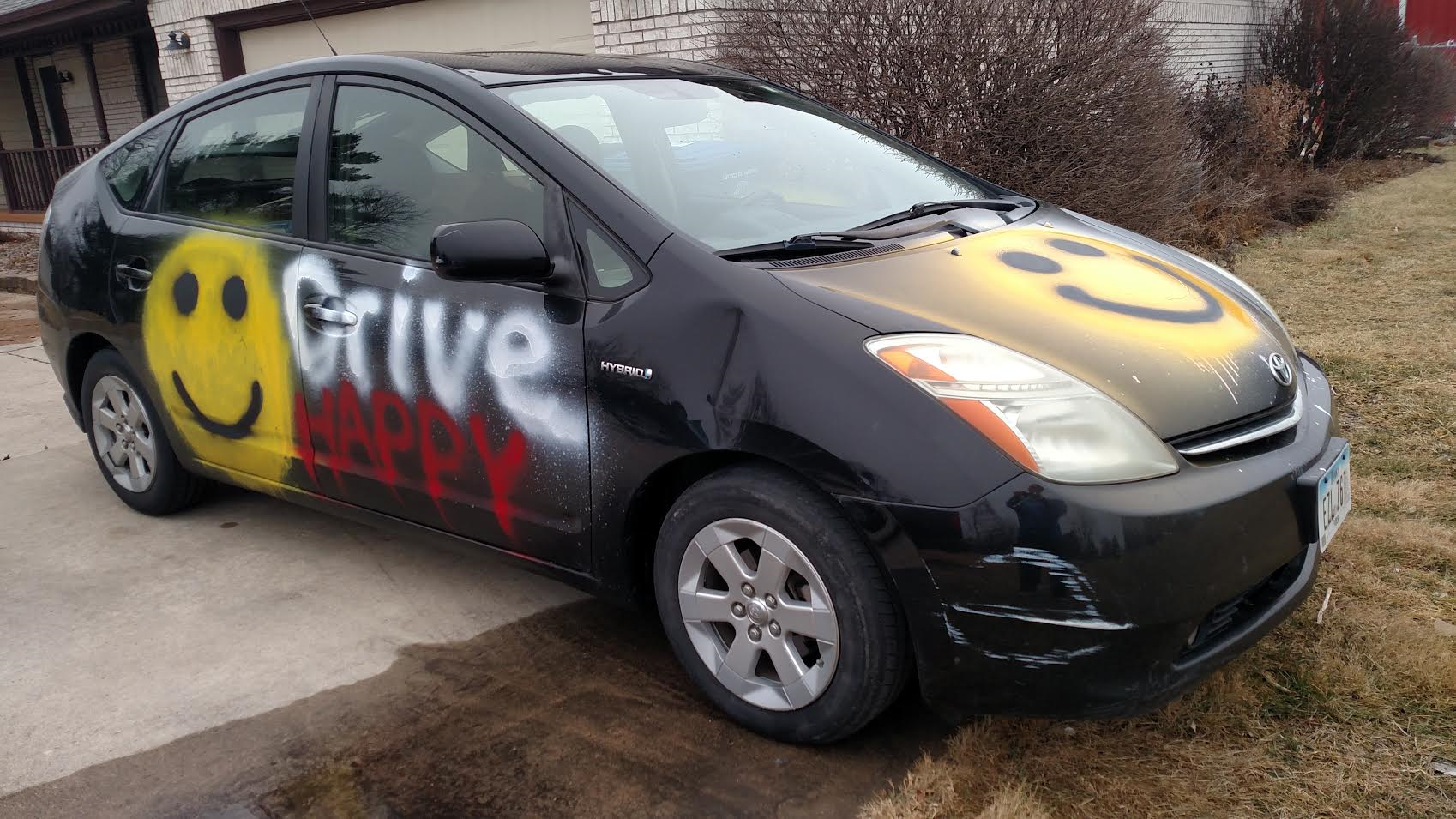 The Clown Car
So when I decided to take the CC to All Pro Service Center, it was because of my curiosity. I wanted to compare the service offered there against what we train on with the other shops. It is not a fair comparison - I would expect our clients to offer better service. But that doesn't make the comparison any less valid, or important, especially to our coaches and trainees. How do we stack up?
Chris the shop manager greeted me with a pleasant smile as I dropped off the Prius in the early afternoon. I asked him to put together an estimate and call me before doing any work and he did just that a few hours later, $491 to fix the kit and the kaboodle. Sounded reasonable. I told him to proceed. He gave me an expectation of completion, by afternoon of the next day, and he lived up to that with a phone call less than 24 hours later to tell me the work had been completed. Seth the Assistant Manager was at the counter this time. He was pleasant and engaging and efficient and made good eye contact. I picked up my car the next day and Seth, the Assistant Manager, waited on me. He was pleasant, personable and made good eye contact. I paid him, he thanked me, and I left.
Other positives include ease of getting into and out of their parking lot, fairly visible signage, a comfortable and clean waiting area and up to date magazines. Their "diag" rate (what we call "testing and evaluation" in coach-speak) is just $65, very reasonable. The shop is busy, and busy shops are usually busy because they have a good location and have built a good reputation by offering good work at a fair price.
Before we go any further, it is worth noting that I secret shopped lots of auto repair shops back in the early days of the blog.
The Unsecret Shopper Goes Shopping: Auto Repair Shops
The Unsecret Shopper Goes Shopping: Des Moines Auto Repair Online Part 1
The Unsecret Shopper Goes Shopping: Des Moines Auto Repair Online Part 2
My approach back then was to accentuate the negative (and to write as many words as War and Peace, but with cooler pictures). At the time I thought it "played" better. I am older, smarter, wiser, kinder, gentler and better looking now, and so I better understand things from an employee/coach point of view. Don't tell people what they are doing "wrong." Tell them what they are doing (W)right, tell them about the opportunities for growth and then give them the tools for getting better. That doesn't mean the criticism won't hurt. Of course it will, that's part of being human. But we do it out of love, the kind of love that moves us to want to help shops be better and more successful and profitable, and help make the world a nicer and friendlier and better place to shop. It's not personal, Sonny. It's strictly business.
All Pro Service Center is a good shop run by good people who want to do good work, and do. There is one key opportunity for them to improve that I can see, and that is to make sure they offer, and review, a Multi Point Safety Inspection.
First, let's touch on the importance of safety, of feeling safe.
Abraham Maslow was born in the Bronx, became a psychologist and, in 1954, proposed the fully developed idea that all human beings need certain things in order to survive, and thrive. This is known as Maslow's Hierarchy of Needs.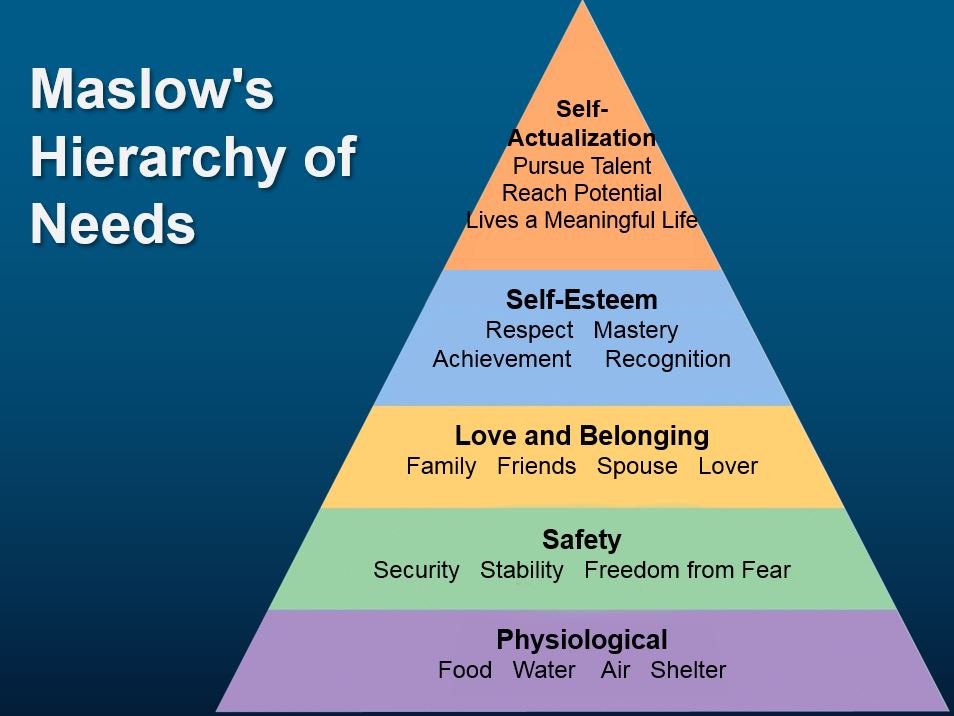 Look at where "safety" lands on the hierarchy. Maslow thought it was the 2nd most important thing to our evolution, even more important than love. That is a powerful testament to the power of that word, and that feeling, and presents a great opportunity for auto repair shops, who are in the business of taking what is unsafe and making it safe.
This brings us back to the Multi Point Safety Inspection. There was no MPSI attached to my repair order and Seth did not offer one - I had to ask for it. This is a fairly large yellow to red flag if you are a customer. You and I generally make an assumption that our vehicles have been checked over by the technician and that the inspection goes beyond what we brought it in for. That cuts to safety and security. Having no inspection form and nothing to review suggests that one was not performed. That creates a feeling of being unsafe. That's bad for business, in about a thousand different ways. I believe shops have a moral, ethical and legal responsibility to not only perform these inspections, but also to inspect every car, and share everything with every customer, every time. (This is called the 300% rule.) This is something we coach, teach and preach to our trainees.
Seth went into the garage area and stayed there for nearly five minutes, until he returned with the following document.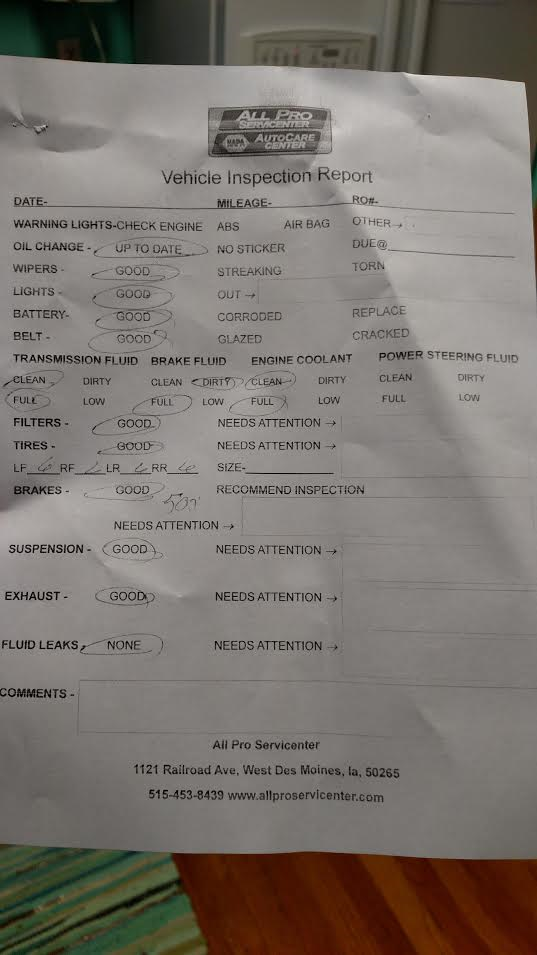 Seth did a cursory review of the inspection findings, then moved on. He did not explain what those findings meant, or why they mattered, or ask if I had questions.
We have specific protocol and guidelines on how work should be presented, and we call this part the A/B/C/D process.
A) Tell people what is wrong.
B) Tell them what (W)right looks like.
C) Tell them why it matters/consequences of not getting it done.
D) Ask if they have questions/get their buy-in and understanding.
I would not expect Seth to use our Best Practices but I would expect more than I got. The time Seth spent in the garage added to my suspicion that an inspection had not been properly completed. The "completed" inspection that he brought out to me pretty much confirmed it. The form is sloppy, and is missing key information that would have and should have been filled out when my car was first checked in. It has the appearance of being pencil whipped.
That doesn't mean it was. I'm not accusing Seth of being dishonest. I want to believe him. But not having a proper procedure in place for giving the customer a completed MPSI at pick-up creates circumstances that plant seeds of doubt and a specific negative perception, which becomes the customer's reality, and also becomes an unwanted and unintended part of that shop's marketing. I don't blame Seth. This is a failure in process and accountability, two areas where shops (and other businesses) often struggle.
The good news is that this can be easily improved. The fabulous news is that my heater works.
---
Buyosphere University and our Buyosphere team works with hundreds of businesses across the country on the art and science of delivering exceptional service to their customers and their employees, for the greater good of us all. To find out what The Buyosphere can do for you and your business, please fill out this contact information below and we will get back to you within 24 hours.
[contact-form][contact-field label="Name" type="name" required="1" /][contact-field label="Email" type="email" required="1" /][contact-field label="Name and address of business" type="url" required="1" /][contact-field label="What areas are you intersted in improving?" type="textarea" required="1" /][/contact-form]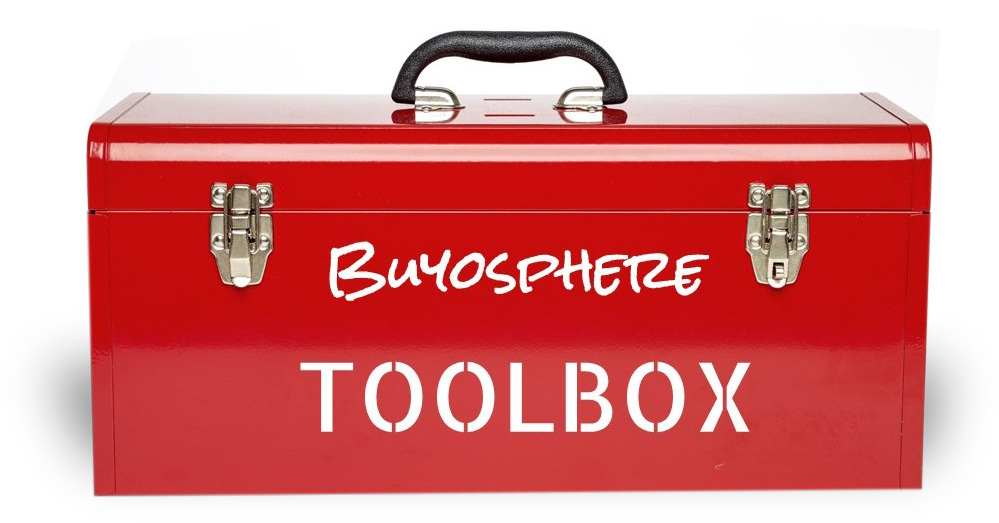 Open The Buyosphere Toolbox to get FREE exclusive access to proven tools that will help you generate higher shop sales and profits - delivered weekly, right to your inbox!