Hello shoppers...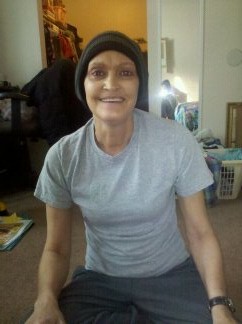 Right now, you are likely thinking about the picture above, and these words below it.
When you are finished, you will think about other things; emailing a friend, making a call, letting out the dog, organizing your desk, getting lunch, balancing your checkbook, picking up the kids after basketball practice.
You probably won't think about dying.
Neither was Brenda.
On December 14th, eight days after her 47th birthday, Brenda Carpenter was thinking about the normal things a single mother of four, living in Des Moines, thinks about: kids, kids' schedules, bills, work, life.
Until doctors told her she had stage 4 lung and liver cancer.
Stage 4 - the most advanced form of lung cancer. The worst of the worst. No cure.
Brenda was diagnosed with emphysema four years ago. This was different.
Doctors gave her four months to live.
No more summers spent grilling steaks, her favorite food. No more watching One Tree Hill, her favorite show. No more listening to Tesla on the radio, or REO Speedwagon. No more dreams of taking her kids to the Florida Keys for their first vacation.
It would soon be over. She was on the clock.
Her mind raced with thoughts; how would she tell the kids? Should she? Who would take her youngest, Dustin, 15, and Madison, 10? Both of her two oldest boys - Archie, 25, and James, 23 - have babies due in October. Would grandma be around long enough to hold them?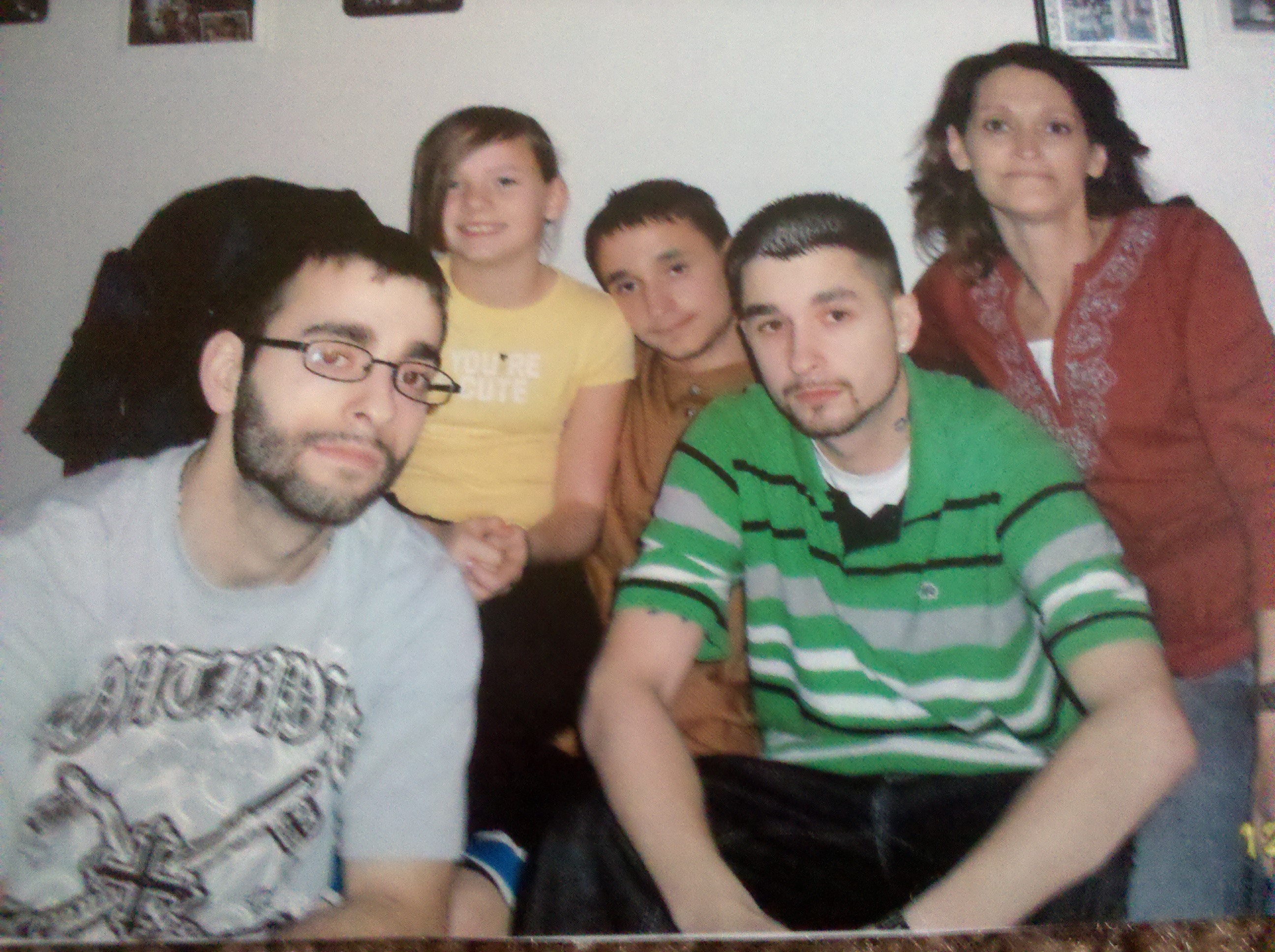 Brenda was no stranger to tough times. Her mother was a junkie. Her father had died of brain cancer. She'd also made some bad choices in her life; She'd married a man who later spent 16 years in prison, for drugs. She'd been with others who mistreated her, then abandoned her. She started smoking when she was 12 - and was now paying the price.
With her diagnosis came the most important choice of her life: she would choose to fight to stay alive. For her children.
She started chemotherapy - every three weeks, for 5-6 hours. A week after the initial diagnosis, tests revealed she also had four tumors on her brain and lymph-nodes. She began radiation treatments the next day - once a day, for 15 straight days.
It was brutal.
She vomited. Her hair fell out. Sores developed inside her mouth. Her bones literally hurt from the treatments. She became short of breath. She was constantly exhausted. She hardly slept.
All of this would buy her an extra four months.
Yet she stuck with it, hopeful she might live longer, that she might be the one in ten who beat the odds.
The odds of Brenda and I discovering each other were slim. Somehow, we did, through Dawn, her cousin, who I happen to know. She mentioned Brenda's plight. A meeting was arranged.
I visited Brenda a week ago last Sunday, January 16th, at the beginning of a two-week break in her chemo and radiation treatments. The two of us sat beside each other, on Dawn's couch.
Brenda immediately handed me two sheets of paper, with writing on three sides.
"It's her story," Dawn said. 
Brenda leaned towards me. "I worked all night to write it," she told me in a whisper, her vocal chords compressed by the tumors that pressed against them.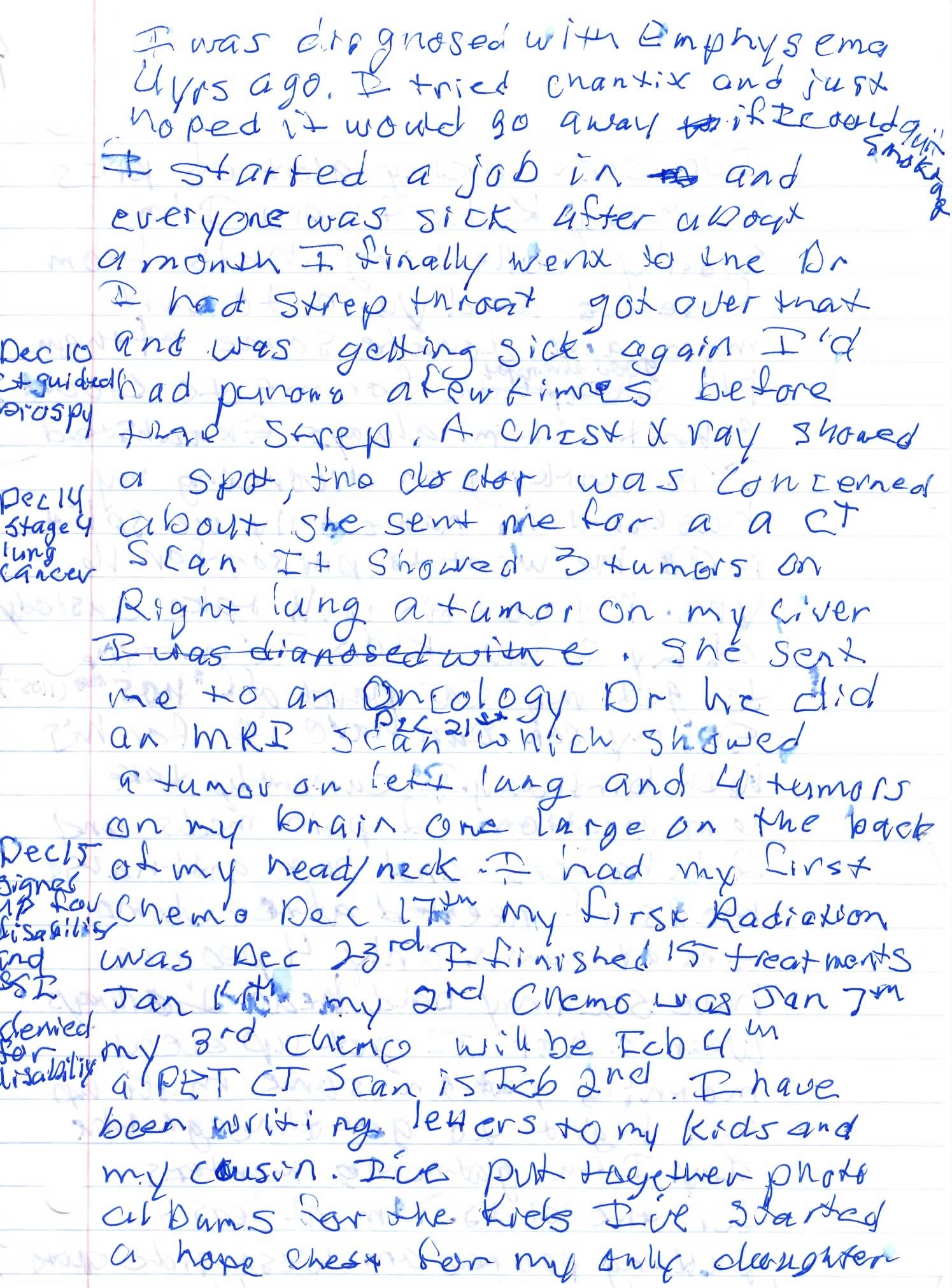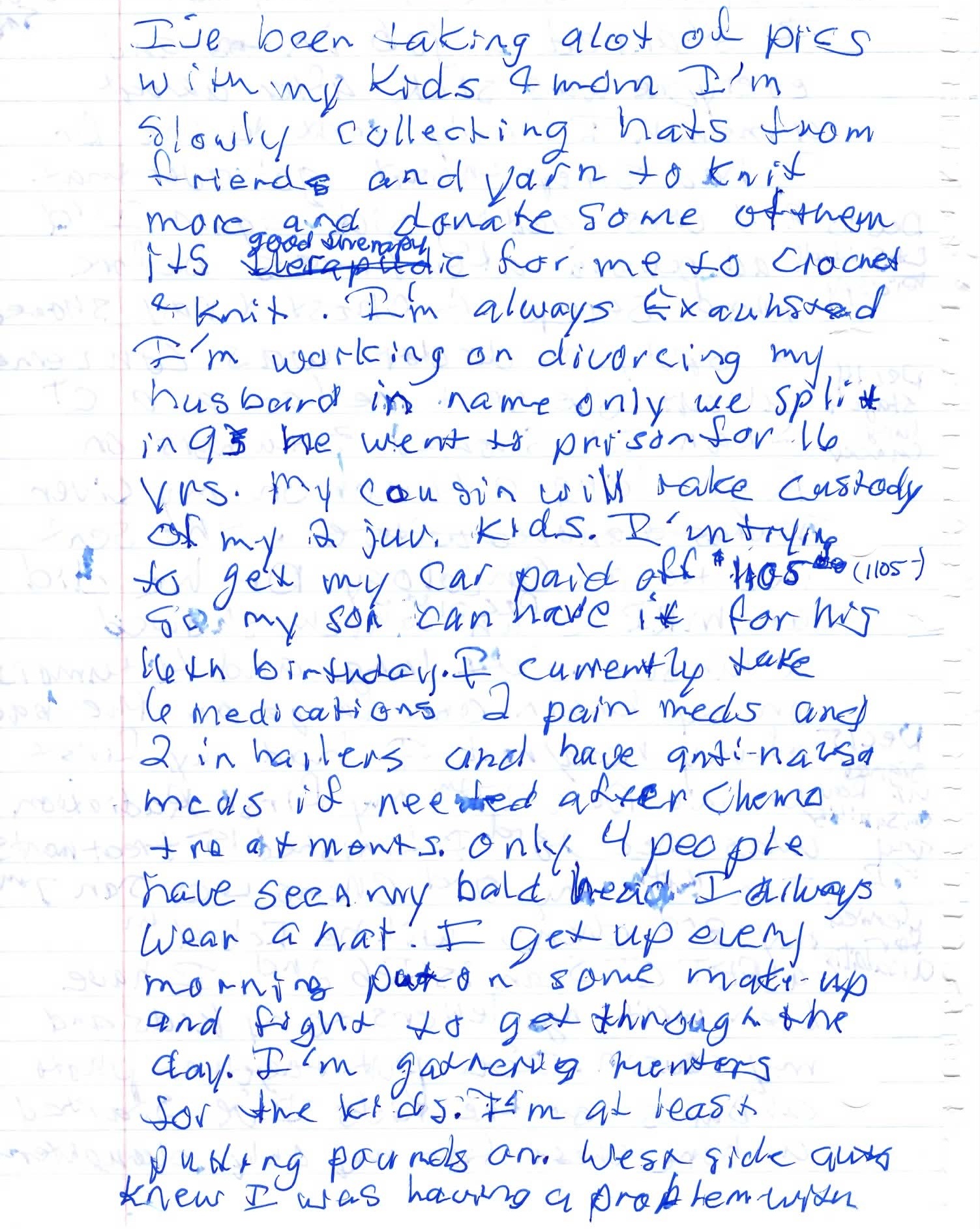 I read it, then looked up at her. Tears were streaming down her face. "I need every kind of help." she said.
Brenda was working before she began cancer treatments. She was forced to quit because of her condition. "I was denied disability," she said. Brenda didn't work enough credits in her lifetime to qualify. "I have no way to hold down a job. It takes me twenty minutes to get ready for bed." 
Somehow, Brenda managed a smile. "I had to borrow toilet paper the other day. I couldn't afford to buy any." She paused. "One of my sons gave me money towards a bill." The tears came again. It seemed like she would break into a million pieces if touched. I wrapped my hand around hers. 
"I try to stay upbeat and positive," she said, looking down. "I get up before the children do, and cry. Then I put on a happy face."
She looked over at Dawn. "She's my rock," she said. The two were born six months apart. "We are more like sisters than cousins."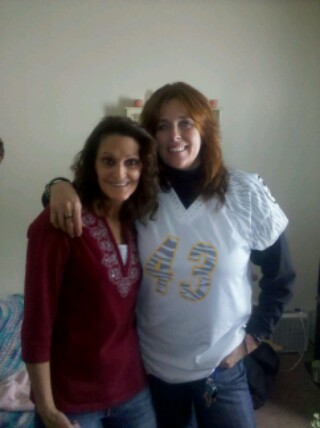 Dawn will get custody of Madison and Dustin. It was crushing to hear the two of them speak about this. Dawn also struggles; she lost her job, lives in Section 8 housing, has children of her own and her own health issues. "I don't know how I'm going to do this," Dawn said.
Brenda didn't want her to have to. "I fight every day," Brenda said. "I don't want to die."
She understood the odds, and prepared as best she could.
"I'm writing letters to my kids. I saved a lock of my hair for my daughter, for her wedding day."
It was time to go. I promised to do whatever I could to help her and her family. We both stood up, and hugged. "I'm holding you to that," she said, looking me in the eye. "I'm holding you to that.
I left, thinking Brenda had months to live.
She had less than 24 hours.
The next day, Monday, January 17th, Dustin went in to Brenda's bedroom to check on his mom.
She had died in her sleep.
Her suffering is over.
Now, it is those who loved her that suffer.
God allowed her to live just long enough to tell her story. Now you know it.
And the promise will be kept.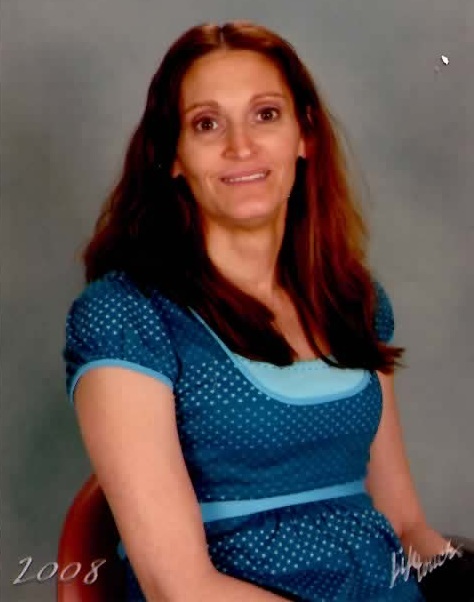 1963-2011
Brenda's children have many needs. A fund has been established.
Donations can be made to the Brenda Carpenter Memorial Fund
at any of the eight Des Moines area Hamilton's Funeral Homes.
A Celebration of Life Service will be held on January 30th
at The Eagles Lodge
6567 Bloomfield Road in Des Moines.
It is open to the public.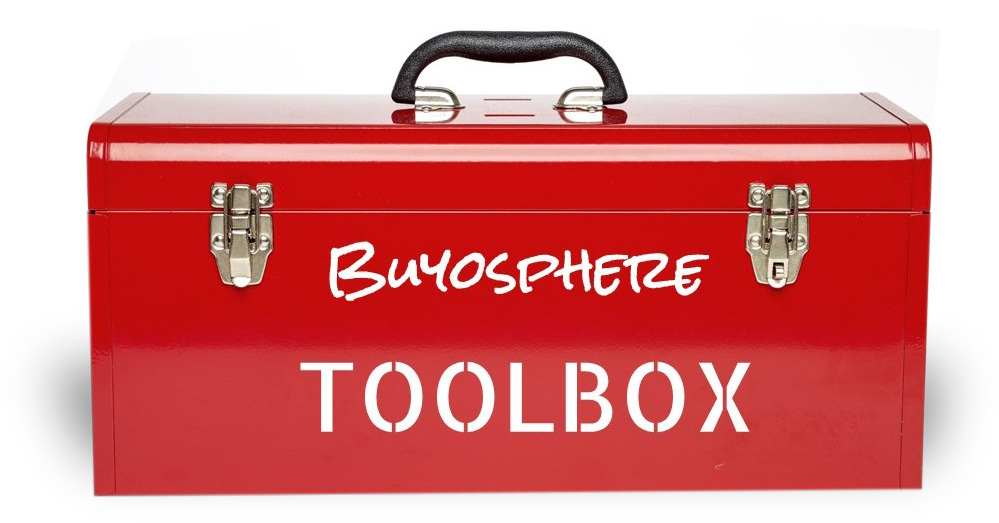 Open The Buyosphere Toolbox to get FREE exclusive access to proven tools that will help you generate higher shop sales and profits - delivered weekly, right to your inbox!