A walk around can add $125 to your ARO.
Inviting your customer to join you in a walk around their vehicle - to get to know it, and your customer - is a great way to increase per ticket average, especially with new customers.
We train our clients to use this tool yet many do not, mainly because of perceived time restraints by the Service Advisor.
So let me ask you - if there was a way to add $50 per ticket domestic and $125 per import/euro with a four minute commitment, could you find the time?
I thought so!
The walk around works on three levels.
1. Engagement.
The customer's car, inside and out, is full of personal information. Hobbies, family, passions, even the dents are a time line of events in the customer's life. The walk around is a perfect vehicle for engaging the customer about everything you see on and in their vehicle. Call it their Facebook page on wheels.
2. Liability.
How often has a customer said, "That dent wasn't there when I brought in my car."? The walk around is a way to record the dings, scratches, dents, cracks and other cosmetic issues in real time, with the vehicle owner present. It won't fully absolve you of all legal liability but it at least creates a written agreement (see downloadable walk around form) that you and the customer have reviewed the vehicle together.
3. Upselling.
The initial walk around allows you to plant seeds with the customer. You point out a concern and offer a strategy for correcting it. It empowers you to be the hero, that you are looking out for the customer's best interest. And now you've laid the groundwork for your follow up call in the afternoon to review what your technician found during the Multi Point Safety Inspection - including revisiting everything you pointed out during the walk around that morning.

Get your FREE Buyosphere Walk Around Form!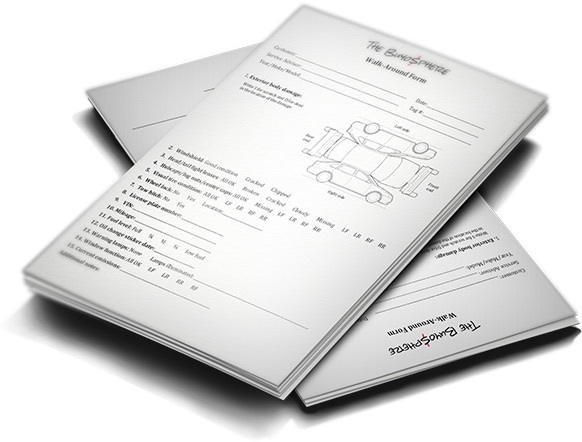 Subscribe to the Buyosphere Toolbox to receive your FREE copy of the Buyosphere Walk Around form. Subscribing gives you exclusive access to proven, weekly tools and insights that will help you generate higher shop sales and profits!